Der er utallige muligheder for vandringer på Madeira. Stierne langs levadaerne – vandingskanalerne, som strækker sig over 2000 km, tilbyder naturoplevelser i særklasse. Turbeskrivelsen er vigtig i forhold til sværhedsgrad, fokuspunkter, varighed og nødvendigt udstyr.
De her nævnte har hver på deres måde givet både barske udfordringer, spektakulære oplevelser og naturhistorisk viden.
Pico do Arieiro Walk
This is a Hike on rugged terrain along part of the central mountain chain that runs across the island. The views are truly spectacular. This trail is unique in that it links the two highest peaks of Madeira Island, Pico Ruivo (1861 m) and Pico do Arieiro (1817 m), traversing part of the Central Mountain Massif. Besides the fact that you just don't stop seeing some of natures most spectacular scenery like the oldest heather forest in existence, you also get a chance to see some endemic birds to the island and also the most endangered seabird of Europe.

These ancient trees that are found just before you get to Pico Ruivo, are many hundreds of years old and were already there when Zarco discovered and landed on the island for the first time. The view is most awesome from Pico Ruivo, where on a clear day, you can see forever! Although the path is well used, Pico do Arieiro walk is not for vertigo sufferers. Suitable robust footwear and clothing are essential no matter what time of the year you are doing this Madeira walk.

Pico do Arieiro – Pico Ruivo

Distance: 13 km

Duration: 5 hours

Grade: 4 Difficult

Warning: Vertigo

Ribeiro Frio Walk
To really appreciate Madeiras natural heritage, you have to do the Ribeiro Frio walk. Set deep in the Laurisilva forest on the eastern side of the island you will marvel at display of light and shade filtering through the laurel and heather trees. The trout swimming in the levada alongside the path dash for cover as they perceive our approach.You will love the tranquility and peace of your surroundings as your eyes feast upon sensational views at the vast array of flora and bird life. The Ribeiro Frio walk is another levada walk not to be missed.

Ribeiro Frio – Portela

Distance: 11 km

Duration: 4 hours

Grade: 3 Moderate

Warning: Slight Vertigo

Rabacal and the 25 Fountains
Rabacal levada walk is in the bewitching valley of Rabaçal and is one of Madeira's most popular levada walks. We walk along stretches of 3 Levadas, each with its own character, but all of them with a large number of waterfalls. Here at the head of Madeira's greatest valley, the houses of Rabaçal seem tiny beneath the enormous emerald-green mountains. For nature lovers it is simply a unique and awe-inspiring paradise. Rabaçal also know as the 25 fountain walk, is an enchanted fairyland of cascading waterfalls, singing fountains and small lakes. A really great Madeira walk and definitely one of the most popular ones.Rabacal and the 25 fountains

Distance: 11 km

Duration: 4 hours

Grade: 2 Moderate

Warning: Tunnels & Slight Vertigo

Referta Walk
Referta walk is an easy and charming walk, along the paths made by man in this area many years ago. You will be able to admire, some of the villages on the Northeast Coast. As we make our way around this levada you have fascinating views of terraced fields and houses that lie absent mindlessly below. On this walk you will also notice how hard it is for local farmers to get to their crops and lands.

Referta – Castelejo Walk (half day)

Distance: 7 km

Duration: 2.5 hours

Grade: 2 Easy
Hell's River
One of the most spectacular walks on the Island, with superb views over the Porto Santo Island, the São Lourenço peninsula, the northeastern coast and the valley of Machico. Not to be missed!

Duration: 3H30m   

Distance: 7km

Difficulty: Easy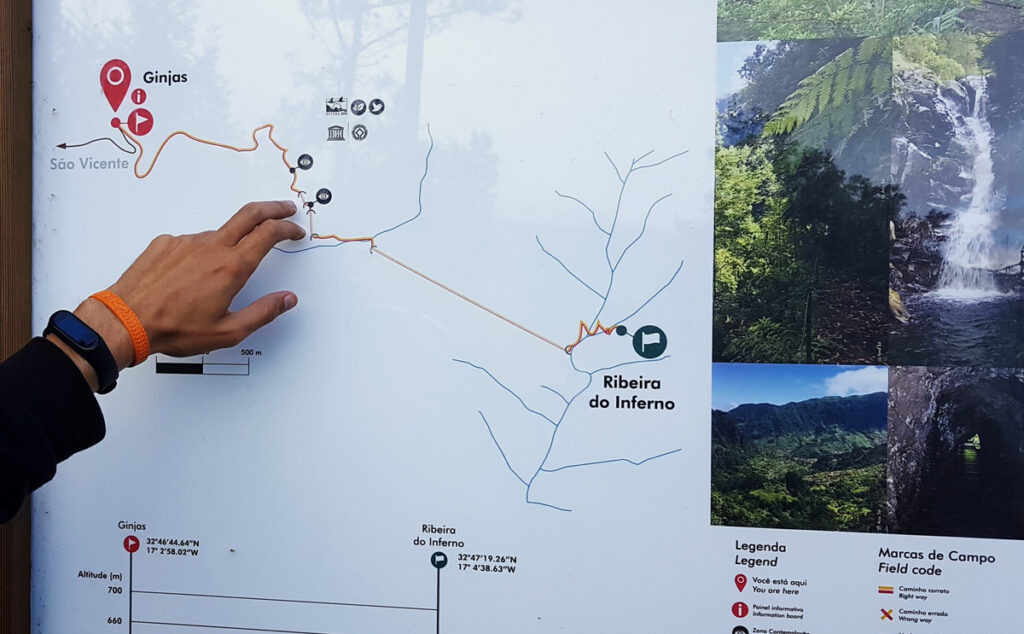 Boomerang levada tour in Ponta do Sol
A great combination of two levadas offering two different perspectives of the mostly unknown Ponta do Sol Valley. Like a boomerang, go in one levada and come back in another one

This walk has a lot to show to you, from the hidden forest to hidden waterfalls to hidden landscapes, it is one that it will wake up your spirit of adventure. An easy and an half day walk out of the beaten track.

Massive landscape;

Behind the waterfall;

Water clocks.

Duration: 04:00

Tour Tips: Warm clothes, comfortable outdoor shoes (trainers are ok). Hat, sunscreen and water should always be taken to the activities. People without proper shoes (ex: Flip flops, high heel shoe, flat shoe) on pickup, will not be accepted to do the walk.

Vertigo & Claustrophobia: there is vertigo and some claustrophobia sites(tunnel).

Physical Requirements: : Recommended for most people even with walking cane. But impossible to do with people with vertigo and balance problems.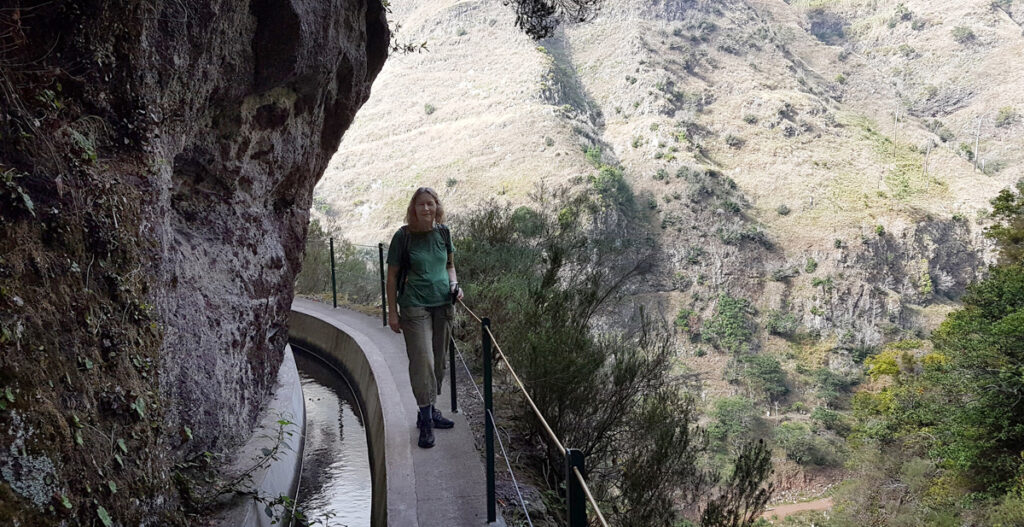 Mimosa Valley Levada Walk
This is a 6 km walk half-day walk (which includes collection from hotels and a bus trip of around half an hour), on level ground, classed as "Easy".The walk is not strenuous, is at a steady pace, with time given for photographs, explanations of fauna and flora, and admiring the views. It would not be suitable for anyone who is not steady on their feet, as at two points, there are crossings of water courses (shallow water over hard surfaces) via stepping stones. In addition, dependent on recent rainfall, the path can be very muddy, and slippy in places so sturdy shoes or boots are recommended.